---
The endless push from the left to turn anything and everything into some kind of coordinated attack against women continues.
Last week, political theory professor Sophie Smith of Oxford University tweeted a photo of a female custodian scrubbing the words "Happy International Women's Day" off the Clarendon steps on the university's campus. Along with the picture, Smith wrote, "Oxford security makes a woman cleaner scrub out 'Happy International Women's Day' on the Clarendon steps. What an image for [International Women's Day], @UniofOxford."
Not wanting to come across as sexist or anything other than politically correct, the university promptly issued an apology in the form of a tweet response: "We are deeply sorry for this and for offence caused. International Women's Day is hugely important to Oxford. This should not have happened," the school wrote on Oxford's official Twitter account.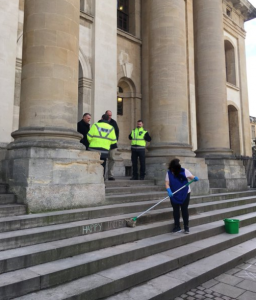 Smith accepted the university's apology, but then fired back with a list of demands. "I appreciate your apology, but far more importantly can you please make sure that the woman asked to remove the message receives a heartfelt apology, a warm cup of tea, the rest of the day off an, along with all our precarious staff, good enough pay to live in this city," she wrote.
So what exactly happened here? Was Oxford University showing disrespect towards women on International Women's Day by asking one of its employees to clean chalk off of the Clarendon steps? The answer, as you probably already guessed, is no. On the contrary, many universities require students to get permission from the school administration before using chalk on campus grounds – it really isn't anything out of the ordinary. What likely happened in this particular situation was no one got permission to write "Happy International Women's Day" on the Clarendon steps, and therefore the school asked one of the custodians to scrub it off.
Nothing sexist or discriminatory here; just school policy.
Frankly, there really isn't a need to have so many days and months dedicated to various groups of people, but if there must be an International Women's Day, then it's worth asking the following question: Why are so many women – particularly feminists and radical leftists – so quick to make the day more about victimhood than anything else? It's as if International Women's Day was created not to celebrate women throughout history, but to remind the world that women are supposedly "oppressed" and restricted by the so-called "glass ceiling."
Unsurprisingly, failed democratic presidential nominee Hillary Clinton mentioned the "glass ceiling" on International Women's Day in a tweet directed at Virginia state Delegate Danica Roem, the first elected openly transgender lawmaker. "@pwcdanica put a huge crack in the glass ceiling last November, then got right to work to serve her constituents," Clinton wrote on Twitter last week. Notice how she said that Danica Roem "cracked" the glass ceiling, as opposed to "smashed" or "broke through" the glass ceiling. If you want to perpetuate a culture of victimization (as Hillary Clinton most certainly does), then you can never declare that the so-called restraints keeping people (in this case, women) oppressed are destroyed. Danica Roem cracked the glass ceiling, but it's still there – and that's exactly what Hillary wants. (Related: Here are five lies that self-made victims tell themselves.)
The catch, however, is that there really isn't any glass ceiling at all, especially when it comes to education. As noted by Breitbart News, females are vastly outpacing males in the United States with regards to education, and more women than men are enrolled in medical school, law school, and doctoral programs. Additionally, for every 100 men that are enrolled in graduate school, there are 135 women – how could this be if we lived in a society that wanted to keep women oppressed?
Read Gender.news for more coverage of gender issues in America.
Sources Include: